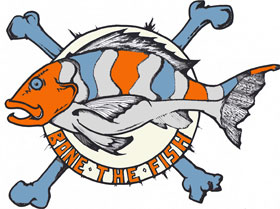 What is Bone The Fish?
Pull up a chair. Join us for the many rewards of expressing your mind.
A quick snapshot of actvity since March 16th 2009!
1,759 BTF Users
151,207 Reason Votes
5,033 Topics
18,287 Reasons something Boned
21,864 Topic Comments
Long story, short.
TVGuide crushed a site that was near and dear to many viewers, and had us laughing daily. The powers that be at TV Guide decided: let's take a great community, a very interesting concept and a ton of valuable input and make it a redirect to a subdirectory of garbage that looks like a tabloid. That was the great demise of one of the greatest websites of all time, which unfortunately fell victim to its own namesake (which will not be named here, but we are sure you can figure it out)!
We vowed to keep the spirit of "the site that shall never be named" alive in theme and spirit. That spirit was given a name in March of 2009- "Bone the Fish". This early time frame is when things can fall apart without the help of the fans - be it a movie series, tv show, celebrity or movie group. We value the opinions of our new fans and community, and we realize that people indeed want to vote on their favorite BTF moment.
So take a minute, sign up for the new BTF revolution and comment and vote until your fingers are worn to the bone!
What Happened to JTS? Jump the Shark?
The term "Bone the Fish" was created in direct reference to TV Guide parent Gemstar. Sometime in 2006, Jon Hein decided to sell the website known as "Jump the Shark" or "JumptheShark.com". Hein sold his company, Jump The Shark, Inc., to Gemstar (owners of TV Guide) on June 20, 2006 for "over $1 million". After Jon Hein sold it he went to work with Howard Stern. Some Howard Stern staff have speculated that the site sold closer to $5-$10 million, however. We like to say that was the point in time when the website Jump the Shark "Boned the Fish".
Around January/February 2009, Gemstar decided to redesign the website. With this new redesign they decided to scrap all the old content and make JTS a redirect to their gossip blog site. Some argue that this is the point in time when the website "Boned the Fish".
It was a complete slap in the face to the jumptheshark.com community. The icing on the cake was Gemstar had the audacity to redirect the old JTS site to a subdirectory of TVGuide.com, basically they bought page views looking for Jumptheshark.com. To show how clueless they are, they went about titling some of their blog columns "shark bites" and "dancing with the sharks" to get more readers.
View Jumptheshark.com Random Topic - Submit your vote for when you think Jumptheshark.com Jumped itself or Boned the Fish!
Site Milestones at BonetheFish.com
Launched March 16th, 2009
If you love TV series, and want to find out what others say about them, BonetheFish.com is the place for you. In BonetheFish.com you are going to find critics about almost all TV series ever, and you can browse them by its first name letter. Also in BonetheFish.com you are able to post a comment on any topic. Just register and click on teh submit commnets link on any topic page. This web site applies not only to TV, but also music, film, even everyday life, in fact, BonetheFish.com, applies to everything that Bones, or in other words has that special moment in which anything before that moment will be the same.
-The Bone the Fish Team
First Annual Meeting February 24th 2011, Las Vegas
Epic Meeting, 4 days in Vegas... Enough said.
Happy 2nd Birthday - March 30, 2011
Moved the site off slow godaddy shared environment to a Rackspace Cloud Server. Average page load time went from 4 seconds to 0.5